ALOS-2 observation: Oil spill from sunken oil tanker off Mindoro Island, Philippines (follow-up report)
A Philippine oil tanker "MT Princess Empress" sank off the coast of Mindoro Island in the Republic of the Philippines on March 1, 2023 (Japan Standard Time), and its cargo of approximately 800 tons of industrial fuel oil leaked into the water in the area. The previous article reports the analysis results of satellite data observed by the Advanced Land Observing Satellite-2 "DAICHI-2" (ALOS-2) Synthetic Aperture Radar (SAR). This article introduces comparison of the ALOS-2 observation results and each of the tidal current and sea surface wind near the time of observation.
Currents and sea surface winds around Mindoro Island:
The current data is based on HYCOM (Hybrid Coordinate Ocean Model: Data assimilation model using hybrid coordinates being studied as part of the U.S. Global Ocean Data Assimilation Experiment (GODAE)). The sea surface wind data is based on ERA5 (ECMWF Reanalysis v5: Fifth-generation reanalysis data by assimilating numerical models and observed data, derived by the European Centre for Medium-Range Weather Forecasts (ECMWF)).
Figures 1 and 2 show the estimated extent of the oil spill with currents (left) and sea surface winds (right) near the time of ALOS-2 observation on March 15 and 23. On the grid closest to the estimated sinking site of the tanker (Red "x" mark), on March 15, the current flows westward at 0.20 m/s and the sea surface wind blows southward at 3.81 m/s (Fig.1). On March 23, the current flows northwestward at 0.18 m/s and the sea surface wind blows southward at 2.07 m/s (Fig.2). The directions of the oil spill on both days almost correspond to respective tidal currents. Since the wind speed on March 15 was nearly twice as high as on March 23, it is assumed that the oil flowed out in a western direction was carried away by the wind and changed its flow to a southern direction. In this way, we can see that the oil flow changes with the current and sea surface wind.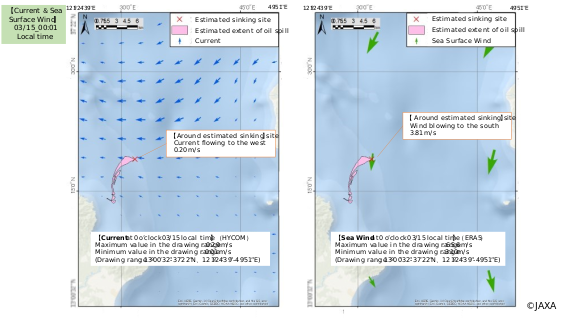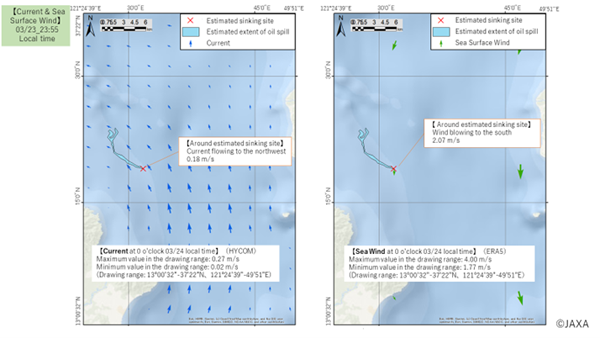 References: Cooperation in Past Oil Spill Observations