Research and Development
2018.06.26 Tue
We have renewed the JAXA GSMaP websites.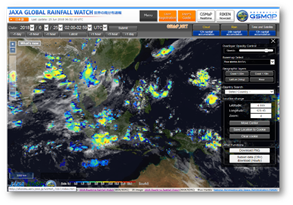 The new websites provide rainfall in full screen, and their user interface have been integrated. In addition, some new functions were added as followings.
*Video "how to use new website"
Also, we will continue to provide rainfall updated in 30 minutes from 'JAXA Realtime Railfall Watch'.
The new 'JAXA Realtime Railfall Watch' website : http://sharaku.eorc.jaxa.jp/GSMaP_NOW/index.htm
For details, please refer to the user's guide.