Research and Development
2015.09.01 Tue
Release of JAXA Himawari Monitor
Earth Observation Research Center (EORC) of Japan Aerospace Exploration Agency (JAXA) has released a new webpage "JAXA Himawari Monitor" showing the color images and the quicklook images of the geophysical data from the geostationary satellite of Japan Meteorological Agency (JMA), Himawari-8.
JAXA and JMA has exchanged the agreement on the distribution and the release of meteorological data and under this agreement, EORC has released the data from Himawari-8 to research communities and has been creating the geophysical data that are consistent with the JAXA's earth observation satellites in order to release them widely to general public. Other than releasing the images in JAXA Himawari Monitor, EORC also stated to distribute via FTP the Himawari Standard Data and the geophysical data produced by JAXA.
The Himawari Standard Data includes the visible to infrared radiances (Band 1 to 16) for three regions of Full Disk (global), Japan Area and Target Area. The observation data can be achieved every 10 minutes for Full Disk and every 2.5 minutes for Japan Area and Target Area. Using the observation bands that enable the world's first "color image" from geostationary satellite, one of the advanced aspects of Himawari-8, JAXA Himawari Monitor shows the visible RGB composite images (Figure 1).
In addition, for the Himawari geophysical data, JAXA produces the properties of atmospheric particles (called aerosols) such as desert dusts and PM2.5 and the sea surface temperature. Both applied the algorithm developed for the JAXA's earth observation satellites, including the Global Change Observation Mission – Climate (GCOM-C) satellite, in order to produce, in the future, the dataset that are consistent between the satellites and can compensate each other's observations.
The aerosol property product (Figure 2) is being produced every 10 minutes in the daytime with the spatial resolution of 5km. Current product is a beta version and will increase the quality through the ground validation.
There are two kinds of sea surface temperature products: an ordinary product and a nighttime product. The ordinary sea surface temperature product (Figure 3) is a dataset produced every 10 minutes, regardless of day or night, with the spatial resolution of 2km. In order to reduce the missing area by clouds, hourly averaged products are also created. The nighttime sea surface temperature uses Band 7 (3.9 µm wavelength) and, although it can only be retrieved at nighttime, its advantage is in its high accuracy. The dataset of nighttime sea surface temperature is hourly averaged product with the spatial resolution of 2km.
Explanation of the Images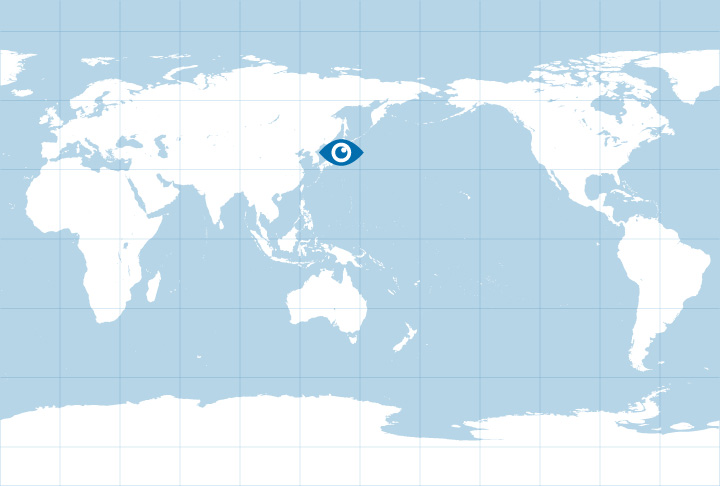 Satellite
Himawari-8(JMA)
Sensor
Advanced Himawari Imager:AHI(JMA)
Date
06:00UTC on Aug. 31, 2015(Fig.1 , Fig.3)
03:30UTC on Sep. 1, 2015(fig.2)
Related Sites