Volcano eruptions in the Kingdom of Tonga
JAXA conducted emergency observation by Advanced Land Observing Satellite-2 "ALOS-2" on the Hunga-Tonga-Hunga-Ha'apai volcano eruptions and tsunami in the Kingdom of Tonga and provided observed data upon request from Sentinel Asia on January 16, 2022.
The results of analysis by Nanyang Technological University – Earth Observatory of Singapore and the Mohammed Bin Rashid Space Centre (MBRSC) were provided to Disaster Management Organizations such as the Pacific Community (SPC) to monitor the impact of the volcanic eruptions and tsunami.
The observed data by ALOS-2 was provided through the Sentinel Asia initiative, an international collaboration among space agencies, disaster management agencies, and international agencies for applying remote sensing and Web-GIS technologies to support disaster management in the Asia-Pacific region.
Emergency Observation by ALOS-2
Requester
Asian Disaster Reduction Center (ADRC)
Activation Date
January 16, 2022
Observation Mode
Strip map
Observed Date
January 17, 2022: Scan SAR
January 21, 2022: Strip map
January 22, 2022: Strip map
Observed Data Provided Date
January 18, 21, and 22, 2022
Analyzed Data Provided Date
Since January 18, 2022
(The Japan Standard Time)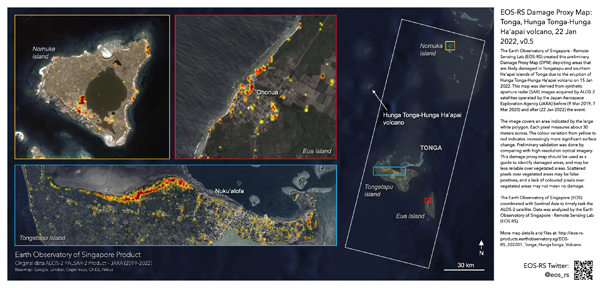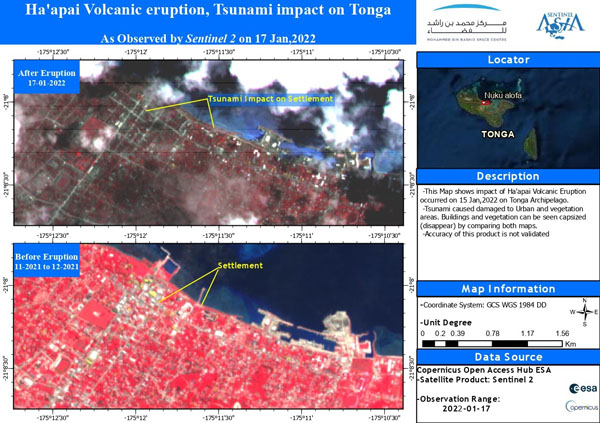 JAXA provided the analyzed data obtained through Sentinel Asia to the World Food Programme (WFP) and WFP Fiji Office that oversees the Pacific Islands as well as the Japan International Cooperation Agency (JICA) and the JICA Fiji Office oversees surrounding islands such as Tonga.
Related links:
Emergency Assistance to the Damage Caused by Volcanic Eruption and Tsunami Disaster in the Kingdom of Tonga
Sentinel Asia
In the detail of emergency observation, please refer to the following emergency observation page on volcanic eruption in Tonga
Sentinel Asia: Volcano eruption in Tonga on 15 January, 2022