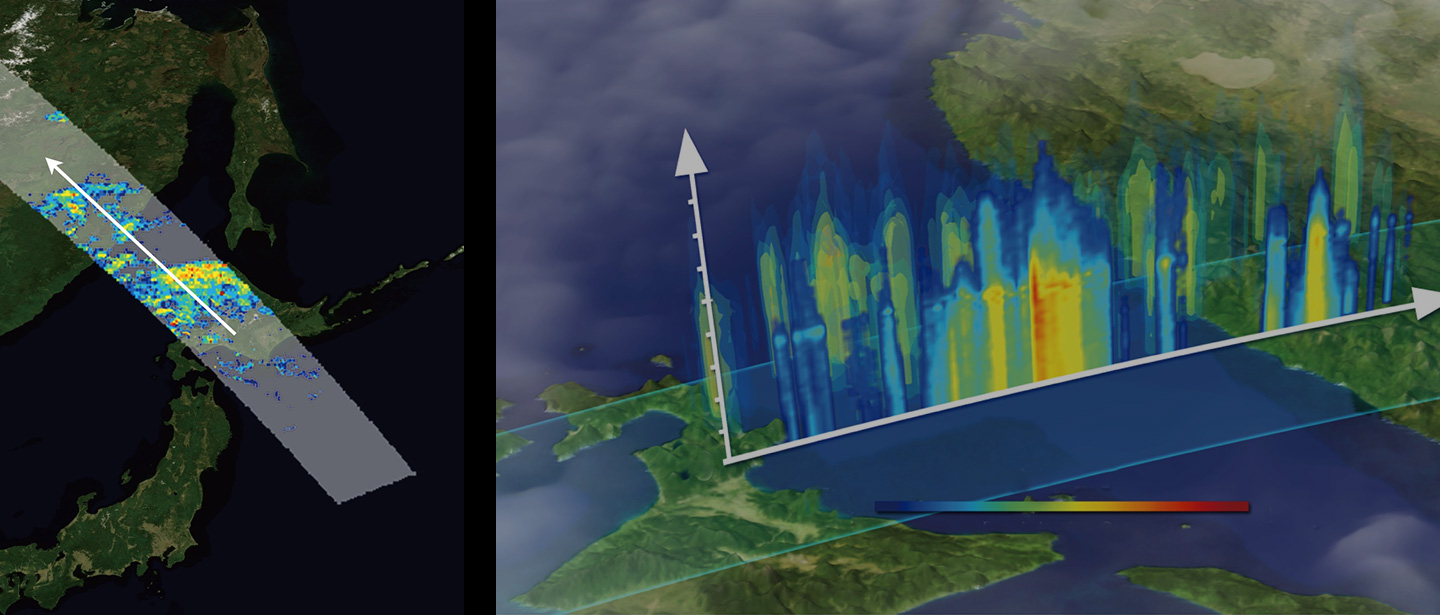 Satellite Applications
JAXA Satellite Applications and Operations Center (SAOC) promotes the utilization of data obtained by Earth observation satellites, and develops, operates, and maintains ground systems for satellite control, data processing, data storage, and data provision.
By supporting efforts of governments and private sectors to solve issues using satellite data, and by promoting cooperation with disaster management agencies and international organizations, we promote data utilization and contribute to solving social issues through the use of satellite data.
Disaster Managements
Satellites such as the Advanced Land Observing Satellite-2 "DAICHI-2" (ALOS-2) can observe wide areas periodically. JAXA Satellite Applications and Operations Center (SAOC) conducts activities related to disaster prevention and disaster monitoring in order to minimize the impact of natural disasters and build a society in which people can live without anxiety.
Cartography
Geospatial information indicates a point or area in space and the information associated with it. It is possible to collect information efficiently through the data use of earth observation satellites which can cover wide areas. Geospatial information is being widely used for applications, including disaster monitoring and business use of maps and other data.
Agriculture, Forestry and Fisheries
Agriculture, forestry and fisheries are important fields that are directly linked to the "food" that supports life and the "environment" in which people can live in safety. Satellite data allows us to grasp the land situation in a wider range than aircraft and drones. It is also possible to grasp the condition of farm products, so that its use in agriculture, forestry and fisheries is expanding.
Civil Infrastructure
By utilizing the Synthetic Aperture Radar (SAR) sensor mounted on the earth observation satellite, it is possible to observe wide areas at once and monitor land subsidence of urban areas and infrastructure facilities. And also the observation data is useful for solving social issues such as aging civil infrastructure, increasing maintenance and renewal costs, and a shortage of on-site personnel and skilled workers.
Maritime Domain Awareness (MDA)
Maritime Domain Awareness (MDA) has been emphasized as an information sharing platform / framework for responding to various human or natural threats from the ocean. JAXA contributes to MDA by collecting data on vessels and oceans using various satellites and providing the summarized information to government agencies.
International Efforts
The possibility of solving global issues will increase not only by JAXA's efforts but also by cooperating with space agencies around the world. JAXA collaborates with various space agencies to jointly develop Earth observation satellites, verify data accuracy, improve data quality, and examine applications that use data by leveraging each other's strengths. JAXA also participates in various international frameworks related to Earth observation in order to contribute to the SDGs, the Paris Agreement, and the Sendai Framework for Disaster Reduction.