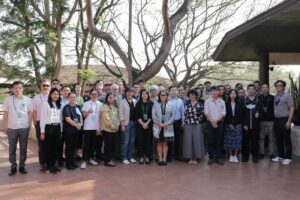 the GISTDA-SilvaCarbon Workshop, Chanthaburi Province and Khao Yai National Park, Thailand, February 22 – March 2, 2023.
Satellite-based forest monitoring is integral to tracking and analyzing carbon emissions and other greenhouse gases. The deployment of satellite missions specifically designed to measure land-cover and land-use change and above-ground biomass density is very attractive to forested countries. Using technology that integrates satellite information with data collected on the ground, carbon emissions may be understood more precisely and thoroughly, which is essential for combating climate change
The Committee of Earth Observations Satellites (CEOS) agencies have embarked on a broad range of activities to support forested countries using satellite data, particularly in support of the Global Stocktake (GST) – a fundamental component of the Paris Agreement.
The Geo-Informatics and Space Technology Development Agency (GISTDA) is engaged in advancing satellite technology and its use in various industries, including environmental monitoring. To share its discoveries and ideas with the public, GISTDA has been undertaking seminars on carbon accounting observation from space for policymakers, researchers, and other stakeholders interested in addressing climate change.
GISTDA, as the CEOS chair, partnered with the USGS SilvaCarbon program to conduct a SE Asia regional workshop on "Uptaking Global Datasets". The workshop was held in Chanthaburi Province and Khao Yai National Park – Thailand, from 22 February to 02 March 2023. During this time participants were able to:
Learn about the latest AFOLU (Agriculture, Forestry, and Other Land Use) datasets and technologies used for monitoring and assessing forest and land-use changes globally.
Discuss and exchange knowledge, experiences, and best practices on using AFOLU datasets for land management, conservation, and climate change mitigation.
Participate in hands-on training sessions to develop practical skills and methods for data processing, analysis, and visualization using open-source tools and software.
Collaborate with experts and stakeholders from different regions and sectors to address common challenges and opportunities related to AFOLU data management and application.
The overall results were an improved awareness and understanding of the potential of AFOLU datasets for monitoring and managing forests and land use at the global scale. The CEOS AFOLU group will continue to work with forested tropical countries to enhance capacity and skills on cutting-edge methods to measure carbon emissions from space in their work, research, and policymaking.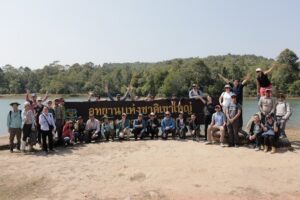 Participants of field work.
Sylvia N Wilson(USGS),  Sitthisak Moukomla(GISTDA)