The annual update of the CEOS Missions, Instruments, Measurements (MIM) Database (database.eohandbook.com) has recently been completed. The Database serves as a valuable community resource providing information on Earth observation satellites, their instruments and the measurements that they make in support of society's information challenges. The Database is meticulously updated based on annual survey responses from CEOS Member agencies. It is recognised as the most widely distributed and quoted statement of CEOS Agency plans, and is the only official consolidated statement of all government-sponsored civil satellite Earth observing programs and their capabilities.
The MIM Database has a number of functions, including:
Information sharing in support of the coordination of future Earth observation mission, instrument and measurements plans.
Earth observation measurement gap analyses – including those performed by the CEOS Systems Engineering Office (SEO).
A connection between the Earth observation user community and satellite-operating agencies of CEOS.
Generation of content for the Earth Observation Handbook.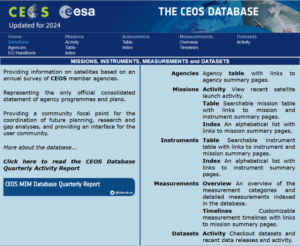 The CEOS MIM Database
The MIM Database serves as the foundation for the CEOS EO Handbook, an initiative by the European Space Agency (ESA) in support of CEOS. The Handbook explains the capabilities of satellite Earth observations, their applications, and provides extensive detail of ongoing and planned civil space Earth observation satellite missions and their instruments. A special 2023 edition of the CEOS EO Handbook is being readied to support the inaugural Global Stocktake of the Paris Climate Agreement and will be released ahead of the United Nations Framework Convention on Climate Change (UNFCCC) COP-28 event.
In addition to the annual updates, MIM Quarterly Reports provide a quick overview of important mission activities from the previous and the coming two quarters. They also include the latest news on Earth Observation and upcoming satellite launches.
All CEOS Agencies play a role in updating the CEOS MIM database. They have the opportunity to review mission and instrument details relevant to their Agency, as well as the instrument-measurement mappings stored within the database. We extend our sincere gratitude to all CEOS Member Agencies and Associates who have contributed their information.
We are pleased to announce that the 2023 update is now live and is readily available in time for CEOS Plenary 2023. It is available at: database.eohandbook.com. The Database team is always happy to hear from users and the community, and can be contacted at ceosmim@gmail.com and via X/Twitter @EOHandbook.
Eleni Paliouras
ESA