The CEOS Earth Observation Handbook presents the main capabilities of satellite Earth observations, their applications and a systematic overview of present and planned CEOS Agency Earth observation satellite missions and their instruments.
The website is composed of two distinct parts, the CEOS EO Handbook, and the CEOS Missions, Instruments & Measurements (MIM) Database.
The CEOS EO Handbook is a publication by ESA, updated once every few years. Each edition focuses on a specific theme, such as the Sustainable Development Goals (2018 Edition) or Climate Change (unusually also a 2018 Edition for the Paris Conference), and are targeted as an educational tool for the general public not necessarily familiar with the satellite world. Through a series of articles, the EO Handbooks aim to increase the awareness of the user community on the potential benefits of EO on a particular subject. Past editions are available at eohandbook.com/past-editions.html, with future print editions anticipated in the same vein.
The CEOS MIM Database provides more detailed information on CEOS Agency satellites, with information obtained through an annual survey of CEOS Agencies. It represents the only official consolidated statement of agency programmes and plans, while also providing a community focal point for the coordination of future planning, research and gap analyses. The CEOS database is accessible at database.eohandbook.com .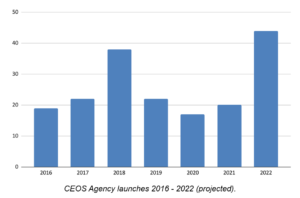 As of 2021, the team has begun publishing quarterly reports, a one page summary of recent and upcoming CEOS Agency mission launches, to keep the database more accurate and up to date. The reports are distributed to the CEOS mailing list, alongside promotion through the CEOS communication channels and publication on https://ceos.org/ceos-database-quarterly-reports/ .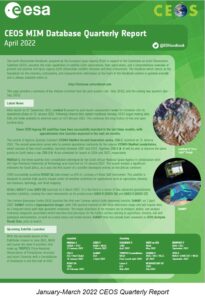 In addition to the annual update CEOS Agency missions, the CEOS Database is constantly evolving to include new functionalities to improve the service to the user community. For example, each instrument now lists which of the Essential Climate Variables (ECVs) the measurements contribute to. The team is considering a similar link for the Sustainable Development Goals (SDGs).
For more about the functions of the CEOS Database, see the series of videos published last year in support of the 2021 NASA CEOS Chair theme: "Space-based Earth observation for open science and decision support". Follow @EOHandbook on Twitter for updates on CEOS Agency missions.
The CEOS Earth Observation Handbook operations and continuous enhancement activities are funded by ESA as a contribution to CEOS.
Simonetta Cheli
ESA