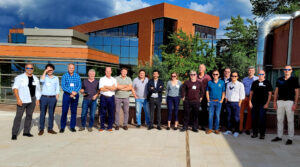 LSI-VC-12 Meeting, ESA ESRIN, September 8-9, 2022

LSI-VC-12 was hosted by ESA at ESRIN from September 8-9, the week before the CEOS SIT Technical Workshop. This is the first in-person meeting of the group since the COVID-19 pandemic, and it was great to have everyone back together! The LSI-VC took the opportunity to reflect on the progress that has taken place since the last face-to-face meeting, noting that in September 2019:
There were no CEOS-ARD datasets – we now have seven approved datasets, with four more under peer review.
The first version of the CEOS-ARD Strategy was in development, now we are implementing activities from CEOS ARD Strategy 2021.
There were only three PFS – we have since added four more: Polarimetric Radar, Aquatic Reflectance, Ocean Radar Backscatter, and Nighttime Lights Surface Radiance.
There were no subgroups of LSI-VC – we have now incorporated the Forests & Biomass and GEOGLAM subgroups.
There was no broader CEOS-ARD Governance Framework nor any thought of CEOS-ARD 'beyond land' – now we have a CEOS-ARD Oversight Group and Ocean Radar Backscatter and Aquatic Reflectance PFSs.
There has been a lot of great progress despite the challenging conditions of the past few years! With conditions normalising, and our experience at LSI-VC-12 confirming the value of in-person meetings and their ability to accelerate work, we are sure to see more great progress from here.
CEOS-ARD was of course a key discussion point at LSI-VC-12. A highlight from the meeting was the presentation for endorsement of two new CEOS-ARD Product Family Specifications (PFS): Nighttime Lights Surface Radiance and Ocean Radar Backscatter. Both PFS have now been endorsed and published on the CEOS-ARD website. Self-assessments of datasets against these specifications are expected to be forthcoming (e.g., NASA Black Marble). More details can be found in this CEOS website news story.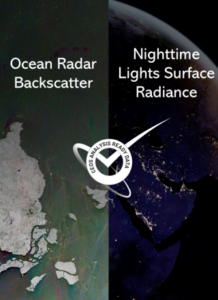 There are now seven CEOS-ARD datasets, with four more under peer review, and many more under development / assessment. These are detailed on the CEOS-ARD website. Recent updates include the submission of the PROBA-V Collection 2 and ALOS-2 PALSAR-2 Global Mosaics (RTC) and ScanSAR NRB datasets to be peer reviewed, as well as the addition of the Sentinel-3 SYN SDR product to the under development list.
Another priority of LSI-VC-12 was to agree a position on the idea of a CEOS Interoperability Framework (concept note) ahead of the SIT Technical Workshop. It was agreed by the LSI-VC that given the scope of EO data interoperability issues, which are distributed across many CEOS groups (e.g., LSI-VC, WGISS, WGCV, etc.), a robust framework and coordination mechanism is needed to help build upon CEOS-ARD and move along the interoperability spectrum. The LSI-VC agreed to take this idea to the SIT Technical Workshop and CEOS Plenary and will seek to establish an Interoperability Task Team within LSI-VC to take this topic forward for CEOS.
LSI-VC-12 also featured sessions led by the LSI-VC subgroups on Forests & Biomass and GEOGLAM.
The top priority for the Forests & Biomass subgroup is the development of the CEOS AFOLU Roadmap document, which aims to provide:
A framework for long-term (15+ years) coordination of CEOS agency observing programmes in support of the needs of society for AFOLU-related information, with a focus on the needs and ambition cycle of the Global Stocktake of the Paris Climate Agreement.
A guiding vision for long term space agency coordination around AFOLU, characterising the needs, the services and applications required, and the products and observing systems that can support these goals.
An effective means for communicating space agency intentions to society, the UNFCCC, national inventory communities, etc.
An understanding of basic observation continuity and the necessary agency coordination to achieve it.
The GEOGLAM Subgroup briefed LSI-VC-12 on the GEOGLAM Capacity Development Guidance Document, which seeks to share evidence-based good practices around capacity development to serve as a resource for organisations (including CEOS Agencies) seeking to support GEOGLAM. The key messages are that any capacity development activities should start at project conceptualization and have an emphasis on co-development, co-design, and co-production. LSI-VC was also briefed on the Essential Agriculture Variables for GEOGLAM. A priority in defining these variables has been to link them to policy and use, and to have the EAVs serve as integrators – meaning that information produced by/for the GEOGLAM community can help support a multitude of policy targets. LSI-VC expects an updated statement of GEOGLAM Requirements in 2023, to which a CEOS Strategic Response is foreseen (the last iteration was in 2019).
Full minutes from the LSI-VC-12 meeting will be released soon on the meeting website.
LSI-VC Co-Leads: Andreia Siqueira (GA), Steve Labahn (USGS), Peter Strobl (EC/JRC)
Staying Connected
The CEOS-ARD Twitter account has continued to grow – and we encourage everyone to follow us there and to retweet and like when you can to help us increase the reach of CEOS-ARD!
The CEOS-ARD Oversight Group also publishes a regular CEOS-ARD Newsletter. A sign up form is accessible here.
The LSI-VC Leads would also like to extend an open invitation for CEOS Agencies to join the LSI-VC. Should you require information on any of our work, please feel free to get in touch with the LSI-VC Leads or the LSI-VC Secretariat.
http://ceos.org/ourwork/virtual-constellations/lsi/