The 2023 International Geoscience and Remote Sensing Symposium (IGARSS) was held in Pasadena, California, USA, from July 17-21, 2023. IGARSS is the flagship conference of the IEEE Geoscience and Remote Sensing Society (GRSS), and is aimed at providing a platform for sharing knowledge and experience on recent developments and advancements in geoscience and remote sensing technologies, particularly in the context of earth observation, disaster monitoring and risk assessment. CEOS was well represented at this important community event, with an Exhibition Booth supported by the Systems Engineering Office (SEO), as well as CEOS members chairing three sessions.
The SEO regularly hosts CEOS Booths at major remote sensing conferences, including IGARSS and GEO Week. This ensures CEOS work is visible to the broader EO community, and provides an opportunity to hear from the community on their needs.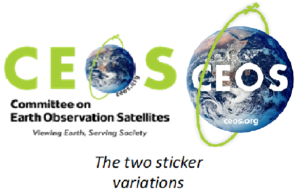 For IGARSS, CEOS was represented at the booth by Dave Borges (SEO, NASA), Brian Killough (SEO), Josh Baptist (SEO, AMA), Andrew Cherry (SEO, AMA) and Libby Rose (SEO Comms). Ahead of the exhibition, the team designed and printed flyers with relevant CEOS information, as well as two sticker variations. The stickers were appreciated by all at the conference, making a huge difference as to the amount of people who would approach the booth. The team also produced a new roll-up banner for the occasion, highlighting some of CEOS' work in an 'Ask Us About' format.
The booth featured a display screen, where a rolling playlist of CEOS content was displayed. WGDisasters contributed some slides on their activities, which was shown alongside the 2022 Year In Review, 2022 launches, CEOS & SDGs, and Introduction to the CalVal Portal videos, as well as some other slides detailing recently launched missions.
For almost every interested person who approached the booth, the team was able to connect their own specific area of interest to some work item within CEOS. This goes to show how broad reaching and comprehensive the work of CEOS is, as the sessions across IGARSS covered a broad range of technical topics on geoscience and remote sensing. Despite this, broad awareness of CEOS as an organisation remains low. Participants would often come up to the booth with a puzzled look, asking what CEOS is. The back page of the flyer was particularly handy for this, to show off all the Members & Associates, to which they would often be surprised how big CEOS was! Pointing out their own space agency logo on the flyer also helped make a more personal connection to CEOS.
Some common questions:
Do you sell data? Do you provide data for free?
How can I become a member or participate in the discussions?
Are there other researchers or entities that are associated with CEOS that I can collaborate with?
How can I get more involved with the Open Data Cube, or build my own?
How does the CEOS-ARD certification work? What benefit does having this certification have?
Hosting exhibition booths at various events remains a focus for the SEO, with the next event being GEO Week and Ministerial Summit, in Cape Town, South Africa. If anyone has any CEOS-related materials or content to contribute, please contact Dave Borges (david.borges@nasa.gov) or Libby Rose (libby@symbioscomms.com).

The SEO Team
In addition to the Exhibition Booth, CEOS members also chaired three technical sessions throughout the program, two with a focus on Cloud-based Platform Environments for Earth Observation (EO), and the third on CEOS Analysis Ready Data (CEOS-ARD).
Brian Killough of the SEO and Patrick Griffiths of the European Space Agency (ESA) co-chaired the two IGARSS sessions focused on Cloud-based Platform Environments for EO. These sessions were well attended (over 60 people) and reviewed a mix of EO platforms for enabling science and applications. The papers addressed several ESA-funded initiatives including the Multi-Mission Algorithm and Analysis Platform (MAAP), the OpenEO platform, the Deep Earth System Data Lab (ESDL), and the Euro Data Cube. There were also papers addressing CEOS SEO testing of the Open Data Cube on cloud computing frameworks and the new Digital Earth Pacific initiative. The 10 papers presented in these sessions were great examples of a growing interest in cloud-based computing environments for EO data and how such systems can improve the user experience and produce more efficient and powerful application products.
Andreia Sequira (GA, LSI-VC Co-lead) chaired the CEOS-ARD session, which was attended by about 40 people, and focused on the processes implemented by data providers to process data to CEOS-ARD standards. Sinergise presented their on-demand processing model on Sentinel Hub, while ISRO and DLR each presented some of the challenges they have faced in reaching the threshold level for CEOS-ARD. Ake Rosenqvist (JAXA) provided an update on the SAR ARD product family specifications, and Ingo Simonis (OGC) discussed the challenges faced with the standardisation of data products. Andreia also presented the below poster, which provided an opportunity for one-on-one discussions with participants about the development of CEOS-ARD.