The Committee on Earth Observation Satellites (CEOS) has an established reputation as the primary forum for international coordination of space-based Earth observation (EO).  Now in its third decade, CEOS's remit has greatly expanded since the organisation was first established in 1984.  As the challenges affecting the planet become more pronounced, more frequent, and more acute, international cooperation is even more decisive.  Today, stakeholder awareness of the value of satellite EO for societal benefit is high, and alongside this is an appropriately growing demand for remote sensing as a recognised tool to support users all along the value chain in their response to many important global and local challenges.  CEOS is highly effective in delivering on stakeholder needs thanks to its strong leadership and robust internal communication.  This allows CEOS to be coordinated in its response to partners and users, and to effectively deliver on its promises.
An important set of tools that support CEOS in its work are a set of governing documents, which provide structure and guidance as the satellite EO community seeks to answer stakeholder needs in a measured and appropriate way.  Given that CEOS is a "best efforts" organisation, it needs to remain mindful of the limits of its collective resource capabilities, and good governance is key to this.  To support the community at a practical level in clearly defining activities and identifying member contributions, a three-year Work Plan lies at the heart of CEOS governance.  The CEOS Work Plan is updated every year, with each annual update covering a forward-looking three-year period.  In a fully traceable manner, the Work Plan articulates CEOS commitments by clearly and visibly identifying, formally endorsing, and carefully tracking the implementation of its objectives.  The Work Plan is developed from contributions that are collated from across the entire organisation and includes the finer detail of the work done by the various CEOS entities through a set of "deliverables".  These deliverables are mapped out in full in a dedicated CEOS deliverables online tracking tool to ensure transparently.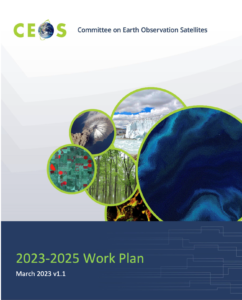 The current CEOS Work Plan covers the period 2023-2025 and represents a full recent annual update by the CEOS community.  The CEOS 2023-2025 Work Plan was endorsed by CEOS Principals in March 2023, immediately prior to the 38th CEOS Strategic Implementation Team (SIT-38) meeting.  The CEOS 2023-2025 Work Plan contains 132 active deliverables, with 53 newly created for 2023 and the remainder being carried over from the previous year.  The Work Plan is always a forward-looking document, though usual practice is that the main body of the work every year is focused on the near-term.  Approximately 70% of current activities are due for completion by the end of 2023; the remaining have a longer than one-year timescale.  Whilst most activities are by their very nature short-term endeavours, continued longer-term visioning is integral to CEOS's work planning.  Horizon-scanning to identify, in good time, any challenges that may affect future work and resource commitments going forwards is always part of the annual Work Plan update considerations.
The CEOS Work Plan represents a huge body of work and effort that is only possible with grateful thanks to the commitment of CEOS Members and Associates.  The dedication of the CEOS membership clearly demonstrates, quite dynamically, the organisation's vision:
CEOS ensures international coordination of civil space-based Earth observation programs and promotes exchange of data to optimize societal benefit and inform decision making for securing a prosperous and sustainable future for humankind.
  Marie-Claire Greening, CEOS Executive Officer